(via Huffington Post)
The mission of Lesley Dill's 'Faith & the Devil' could not be any more ambitious: the artist aims to examine the eternal struggle between faith and evil in philosophy and literature. To us, this sounds like the college thesis from hell, and standing amidst the installation, you start to get the feeling the artist began to go mad in the process.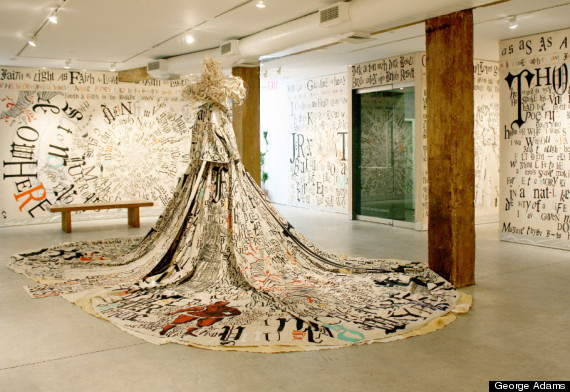 For her exhibition, Dill covers
George Adams Gallery
in textual snippets that come together like a Victorian ransom note. Words cover everything — they spin, contort, and explode across the gallery walls and floor. In the center of the exhibition stands "Big Gal Faith," an eight-foot-tall woman whose "wild word hair" and gentry couture "express the main themes of the exhibit," according to
Dill's artist statement
.
The gallery space is divided into numerous sub-installations that continue to explore the show's laundry list of themes. 'Horrible Words,' one of the more enjoyable ones, is a wall collage of ugly little rhythmic poems with lines like "watching little shit friends watching little shit." The snippets of perverted genius come from everyone from Dante and Donne to Dill herself. Still though, the giant label "Horrible Words" detracts from any subtlety.
In her statement, Dill alludes to a "visionary experience" as an impetus for her work. In "I Heard A Voice: The Art of Leslie Dill," Dill recounts a vision she experienced at 14 years old, a moment at which she was "given to understand the world." This vision, along with the wisdom of a lot of famous poets and also her travels, all help influence her artistic style.
Although we are skeptical that "Faith & the Devil" accomplishes what is sets out to do, it does create an entirely immersive and effective gallery experience. Words contort into strange shapes, becoming shadows on the wall, while illustrations resembling witch hunt propaganda manifest throughout. Although Dill's exhibition doesn't quite depict the struggle between good and evil, it does manage to perfectly depict the mental effects of attempting such an undertaking. And that, we think, is an interesting theme for an exhibition.
'Faith & the Devil' will show until June 2 at George Adams Gallery.